Containment Blending For Cleaner, Faster Batch Mixing
Containment blending was pioneered in the 1950's by TOTE® in response to the needs of customers in all facets of the bulk powder industry. Product change over, clean/ up, sanitation, cross-contamination, blend quality and extensive blend times were a few of the inherent short comings with the technologies that existed, inspiring the search for a better blending system. Containment blending eliminates these concerns in a simple, straightforward design that utilizes the customer's in-house or shipping containers.
The concept is simple. The same TOTE® Container (IBC) that is used for shipping and storage is also used for blending. A typical tumbler/blender consists of a cradle and a pedestal support. The angled cradle holds and rotates the entire IBC. This arrangement keeps the IBC level for loading and produces the blending angles required to create a continuously changing or "kneading" action during each revolution. This produces a cross-flow effect that homogenizes the batch.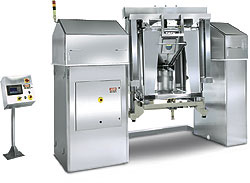 -->